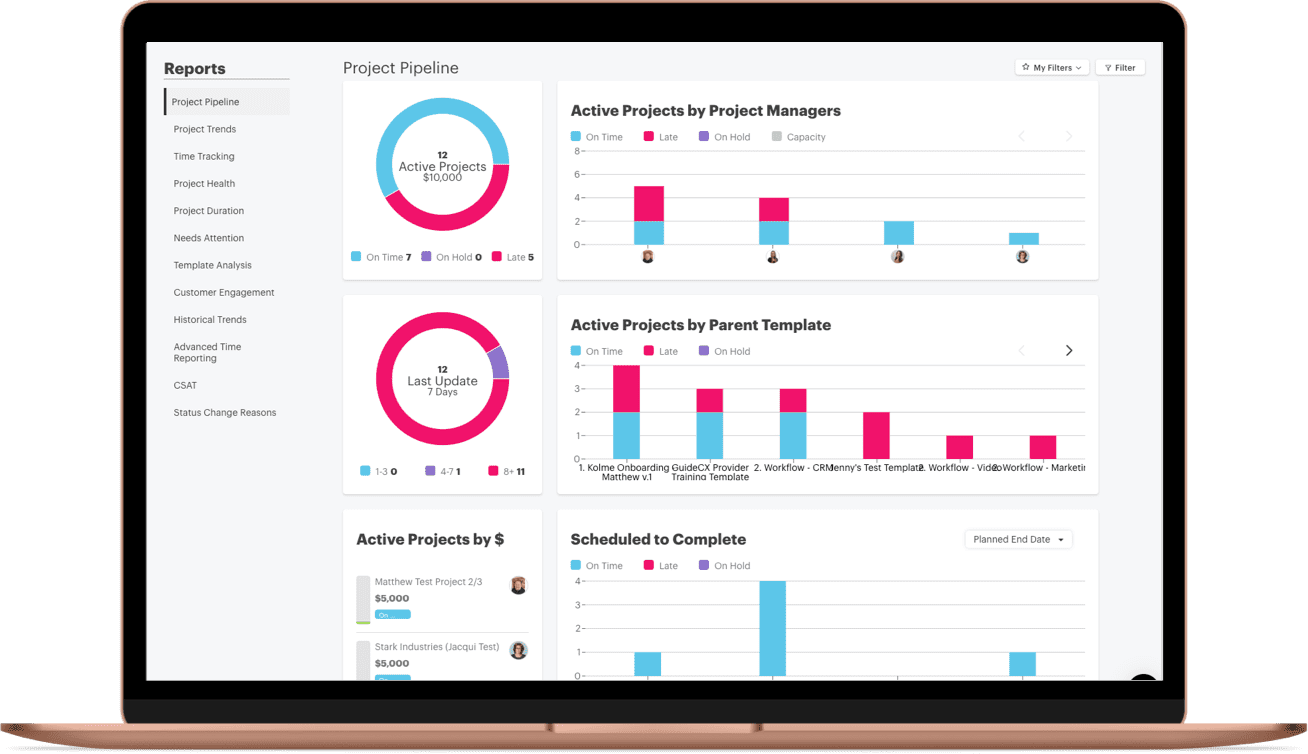 GUIDEcx SERVICES
We believe that automating repeatable tasks drives consistency and saves time, allowing you to focus on the important things.
We believe that automating repeatable tasks drives consistency and saves time, allowing you to focus on the important things. That's why we've partnered with GUIDEcx, an industry leader in client onboarding and implementation software that focuses on upgrading your first impressions. 
Our expert consultants know the ins-and-outs of GUIDEcx and can advise how it can be used to make your organization more efficient. Give your customers a first impression they'll never forget by providing a shared workspace environment branded to your company and powered by the #1 client onboarding software.
GUIDEcx Onboarding Services
GUIDEcx Integration Services
Why do you need a client onboarding solution?
Antiquated project management tools were not designed to include your clients. As the initial step in your customer journey, an amazing onboarding experience can ultimately solve the top two reasons that customers churn, which are 1) They haven't seen much value from it and, 2) They don't understand how to use your product.
A smooth, transparent SaaS onboarding process is key to putting your best foot forward. Using a client onboarding software matters because:
It saves time and money,
It improves delivery of projects speed + accuracy
Allows your team to scale without adding headcount
See everything at a glance, reporting without fuss
Build customer loyalty thanks to a better customer experience and, reduce churn
At Kolme Group, we understand the challenges you face and we're here to help.
Why GUIDEcx?
GUIDEcx was founded on the principle of creating a better customer onboarding experience and built their reputation on helping customers take innovative paths for complex problems.
If you're tired of spending a good part of your week following up and reminding clients to complete tasks, providing manual updates, and answering status update questions, we're here to help. At Kolme Group, we want to collaborate with our customers to deploy the right solution. Choose GUIDEcx, and let us help you succeed!
GUIDEcx Resources
The project and portfolio management industry is rapidly changing. As experts in our field, we often write articles, record trainings, host podcasts and more to share our knowledge with those around us. If you're in need of GUIDEcx support, our resources are here to help!
Book your GUIDEcx consult
Our GUIDEcx experts will answer your questions and speak more in-depth about your current company's needs and how we can help. A team member will be in touch with you shortly! Typically, within 24 business hours.